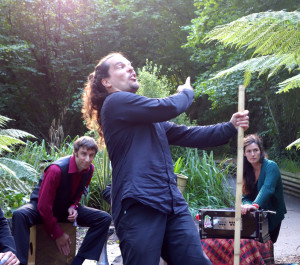 Mikael Öberg is a Swedish performance storyteller who reimagines traditional myth and epic to contemporary audiences of all ages. He began his career in 1997, learning from local storytellers and telling in local schools. Today he travels widely to perform at festivals, theatre venues, schools and museums to a wide range of audiences, both all over Sweden and internationally. He has trained and performed with storytellers from many countries, and his deep interest in myth and epic has also led him to conduct research trips to India and Morocco to learn from traditional masters such as the Indian Pandvani artist Ritu Verma.
Many of his works are experimental collaborations with musicians and other artists. He created the nearly three hour long TRISTAN AND ISOLDE together with two of Sweden´s  most sought after folk musicians; Erik Ronström and Emma Ahlberg. In the most recent piece, INANNA, he joined forces with London-based sonic artist Lee Berwick and Swedish visual wizard Daniel Rudholm to push the boundaries of contemporary performance storytelling, merging the ancient art of oral story with deep subsonics and intense video projections.
His storytelling style has been described as intense, humorous, full of energy and physical expression, and his stories to ´amuse the crowd no end´!