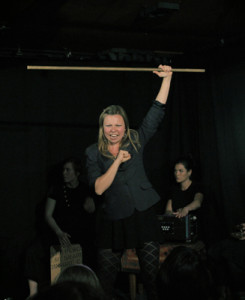 Playful, imaginative and daring, Emily tells myths, legends, epics, folktales, fairytales and fables from around the world. With a Swedish background, Emily has a particular passion for Norse mythology. Work and research trips in rural India, from Ladakh to Tamil Nadu, have also infused a great love of Hindu myth and epic.
Emily came to storytelling while studying Drama & Theatre Studies at the University of Kent where she met storyteller, Dr Vayu Naidu. Emily completed a storytelling apprenticeship with Vayu and later trained with Ben Haggarty. Emily has also had the privilege of training with Indian Pandvani performer, Ritu Verma.
Recent performances include a tour of India with the British Council, the Royal Opera House, the Viking Ship Museum in Denmark and Beyond the Beyond Storytelling Festival. As part of the Pandvani108 ensemble, she has toured music festivals across the UK and performed at venues such as Soho Theatre, Richmix and the Ancient Technology Centre.