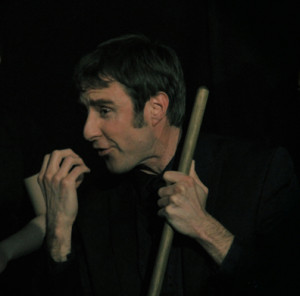 Dominic Kelly is a contemporary performance storyteller based in Lancaster, UK and Stockholm, Sweden. His dynamic and compelling style has captivated audiences across the UK and internationally. He has established a reputation for producing powerful, immersive and entertaining work combining intricate composition with the energy of improvised performance.
In 2009 Dominic was awarded the national New Directions Commission by Cambridge Storytelling Festival and in 2011 was commissioned by Three Monkeys to produce The Trickster, described by The Times as "Compelling, funny and heartbreaking". He has performed at many prominent venues and festivals including The Barbican, National Theatre, Soho Theatre, The Times Cheltenham Literature Festival, Beyond the Border International Storytelling Festival and Delhi International Storytelling Festival.
Dominic curates a storytelling programmes for Litfest, Lancaster, and for Larmer Tree Festival and Solfest. He is an Associate Storyteller with Fabula Storytelling Company in Stockholm, and a member of the Talking Skull storytelling ensemble with Jo lake Cave and Clare Muireann Murphy. Dominic trained with Pandvani performer, Ritu Verna, in Stockholm in 2012.