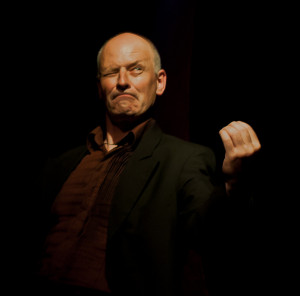 Ben is a world-class performance storyteller, whose work delights and subverts audiences across the English-speaking world.
Having been trained in mime and theatre direction, and apprenticed as an 'image-maker' with Welfare State, Ben Haggarty became a central figure in the re-visioning of storytelling as a contemporary performing art in the UK.
A master of improvisation, he is internationally respected for his playful, physical and challenging performances of stories inspired by international fairytales, folk tales, myth and epic, in venues that have ranged from caves to the Carnegie Hall. He tours widely, has been a guest artist in over one hundred International Storytelling Festivals in 25 countries and, since 2001, has been the official storyteller with Yo Yo Ma's Silk Road Ensemble.
Ben is a much sought after teacher and director of storytellers, and is the founder and Artistic Director of the legendary Crick Crack Club. He is Honorary Professor of Storytelling at the Arts University of Berlin (UDK). His graphic novel, 'MeZolith' is published by Random House.
Ben Haggarty was introduced to the existence of Pandvani by the Theatre Directors Peter Brook and Habib Tanvir in 1986. He briefly encountered Teejan Bai on her 1988 tour of the UK, and then met Ritu Verna as part of Cultural co-operation's London and Birmingham Indian Music village in 1992. The next year, Ben was awarded a small Arts Council 'Go See' grant to research Pandvani and other oral traditions of epic singing in India. In 1995, as Artistic Co-Director of The Beyond the Border Storytelling Festival, he toured a party of 11 performers featuring three generations of Pandvani singers (Jhadu Ram Dewangan, Punaram Nishad and Ritu Verna) to eight venues in England and Wales. Ben brought Ritu Verna and party back to Beyond the Border again, in 2005. He trained with Ritu Verna in Stockholm in 2012.